Home |English version| About | Contactar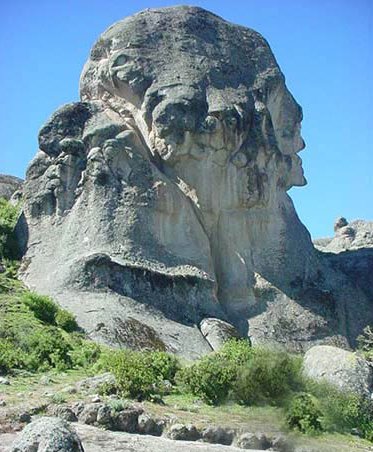 I
visited
Marcawasi
during the 70's in various occasions with a groups of friends from Miraflores, Lima.
My first visit I believe it was during 73-74, not too many people knew the place.
The trip to San Pedro by bus from Chosica was always exciting, the warm climate, the quantity of people from the village, the merchants, always a good place to buy lemon candy, cheese and honey.
The uphill ride from Santa Eulalia to San Pedro de Casta, an adventure - the fresh air, the scenery, the farmers. Al llegar al pueblo tan pintoresco y rural, era siempre un lugar alegre, los nativos sobre todo los chiquillos se apresuraban para vernos. Y despues por la tarde la trepada de varias horas hasta la meseta - a medio camino me acuerdo que nos sentamos un rato a descansar en la grama y me quede dormido, que rico.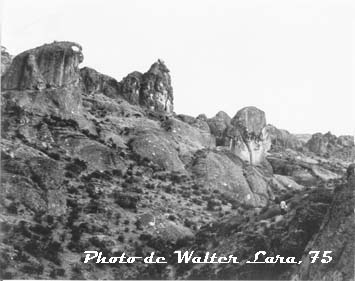 Al llegar a la cumbre cerca a la gran roca de perfil humano, y caminar entre las rocas todos mudos de asombro, para luego sentarnos a ver el "sunset". Mirando al cielo celeste por arriba, los picos de la los cerros al frente casi tapados por nubes blancas y muy lejos en profundidad hacia abajo el valle gigantesco como un hilo minusculo. Fue la primera vez que vi descender la silueta del Sol tan grande bajo mis pies en medio de una explosion de colores y luego de unos momentos de frio, silencio y oscuridad para ser sorprendidos por una inmensa luz blanca que ascendia bajo nosotros. Esa Luna gigantesca pasaria sobre nuestras cabezas hacia ese techo de cielo oscuro y millares de estrellas muy lenta, lentanmente.
FACTS
Plateau of MARCAHUASI for is characterized its antropomorficas gigantic singulars and zoomorficas rocks. This "Forest of Rocks" this to a height of 3.657,6 meters on the level of the sea and occupies near 4 km square of surface.
The plateau this located in the province of Huarochirí and community of San Pedro de Casta, in the departemento of Lima, Peru.
One presumes that she was lived between 1,476 years 800 and D.C. by the cultures Yunga and Yauyo, until the hostile arrival of armies Incas.
Already in 1923 the archaeologist Julio C. Tello, relates the existence of lagoons that they were dammed and they had its channels of water distribution, like located Pampacocha and Wayacocha in the lateral west of Marcahuasi. According to the settlers of San Pedro de Casta, the plateau counted on 12 lagoons or reservorios each one with its respective channel of irrigation.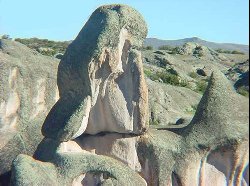 The Plateau of MARCAHUASI one became famous in 1952 by the Peruvian Daniel Ruzo. He named rocks in the plateau of a very peculiar way with pseudonimos of animals. Their interpretation on effecto of the solar light on rocks and antropologica philosophy can be read in his book written in that epoca.
Comentary
But beyond of all the interpretations, the plateau seated on monumental rocks of the Andes is simply a beautiful park, representing, like in any place of the planet, the natural transformation caused by the erosion.
Many oportunistas, mostly foreigners characterize this beautiful park as a mystical and extra terrestial creation - monolitic stones carved by a "martian" work of art-, some others take an archeological perpective and try to explain the erosion of millions of years with a mystical twist. Both groups dedicate to sell books, photos and videos via the Internet for profit.

The most notorious and the largest stony mass that from one angle allows to appreciate a human profile can be seen as you arrive to the plateu. In addition it is amused to appreciate the different and the rocky variety of natural formations (with a little imagination you can see animals and an perhaps alucinate an entire zoo!). It is not rare to meet many naive and "spiritual" young travellers, some professionals, very few I may add, who try to find in the park spiritual energies and are able to provide divine explanations.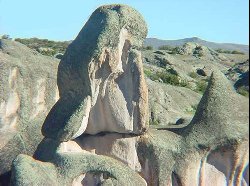 You will also hear some theories about some "enigmatic" visual effects caused by the light falling on the "carving" stones. In fact some people including the author Daniel Ruzo, who wrote an apocaliptic story in his book "Marcahuasi The Story of a Fantastic Discovery", first published in the Spanish language in 1974. He interpreted the reflections of the rocks as misterious, perhaps a job done by non-humans-so he used the shapes of the rocks as provoking arguments for extra-terrestial theories and to support his own theory of "Human life on earth has beenmade up of five humanities, each humanity lasts 8,608 years and is made up of four sun cycles of 2,125 years each. We are in the fifth humanity".
The native ones of San Pedro De Casta, very poor park comunidad, have preserved this beautiful park during several decadas, without the financiera aid of Lima. This park never has had the basicos basic requirements of a turistic park (banos, potable water, desague or lodging).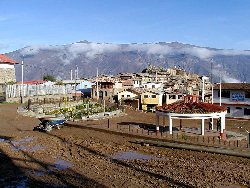 The tourists are mostly young enthusiastic limenos, that make excursions and campings to the plateau during the spring time and enjoy the adventure. A great long walk of a 2-4 hours and the rich heat of the Andes.

Ojala that this beautiful park arrives to be algun day a place turisto, like other attractiveness of the chain of the Andes in the center and the south of the Peru. Meanwhile visit it, and "pasen la voz".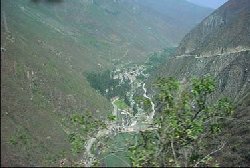 Como llegar a la meseta?
Para llegar hasta el pueblo de San Pedro de Casta, se parte desde Lima, por la Carretera Central, (si viaja en microbus, se toma en el Parque Echenique de Chosica -40 kilómetros al Este de Lima) hasta el desvío del Valle de Santa Eulalia, luego se sigue el ramal que va por la Hidroeléctrica de Huinco, haciendo un recorrido de aproximadamente 95 kilómetros. Si se llega muy tarde o por la noche y desean aclimatarse primero antes de subir a la meseta, pueden acampar en las afueras del pueblo, aunque en San Pedro existen 2 hoteles donde poder alojarse, el costo aproximado por noche es de S/.10.00. Por la mañana previo pago de S/.2.00 para el ingreso a la meseta, se llega luego de un recorrido, a pie de 2 horas a buen paso, si desean alquilar burros para llevar las mochilas se contacta directamente con los pobladores que prestan este servicio.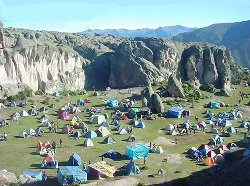 Donde Acampar?

Llegando a Marcahuasi se acampa en el Anfiteatro, primer lugar al que se llega y el más indicado por su disposición natural para protegernos del frío y viento por la noche, otro lugar concurrido son las llamadas "cabañitas"hacia el extremo derecho del Anfiteatro, un tercer lugar es el denominado la Fortaleza mucho más alejado y a mayor altura.
Que llevar?

Carpa impermeable, buen abrigo, una cocinita a gas, utensilios, lentes de sol y documentos.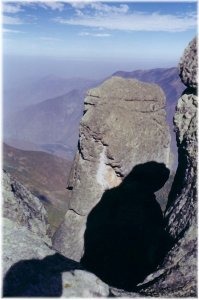 Clima?
El Clima es frio seco en las noches llegando a una temperatura de zero grados centigrados. Y durante el resto del dia es un clima templado, dependiendo de la epoca de visita.
El clima perfecto para visitar Marcahuasi ( Abril - Julio) donde se podra observar las cuatro lagunas existente.

Epocas para visitar:
Semana Santa
Fiestas Patrias
Fiestas Tradicionales
Junio Fiesta de San Pedro de Casta
Octubre Fiesta del Agua.
Marcahuasi is without a doubt an impressive and monumental park however, without the historical values of actual civilizations such as the Incas, the Mochicas and the Nazcas.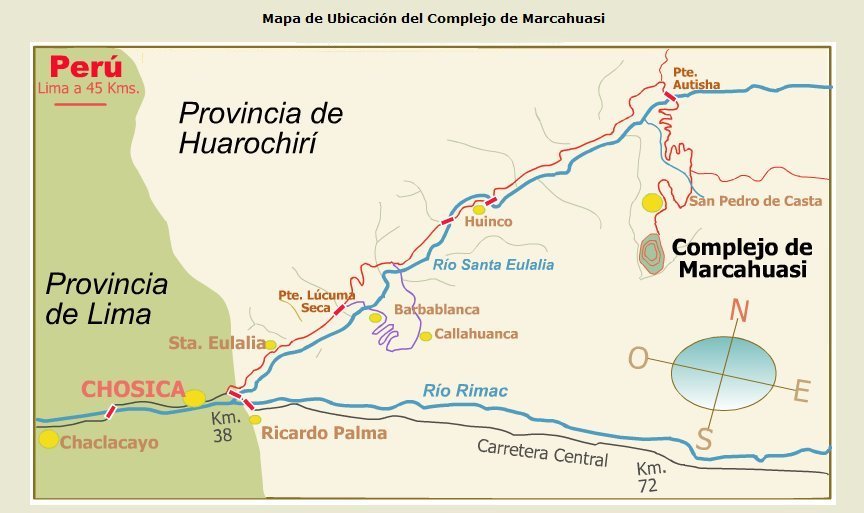 Mapas de Referencia